25 People Arrested in NJ Child Porn Sting
25 People Arrested in NJ Child Porn Sting
The suspect's range in age from 17 to 66 years old.
Posted by: Sex Crime Attorney, Jeffery Hark on behalf of NBC10 Philadelphia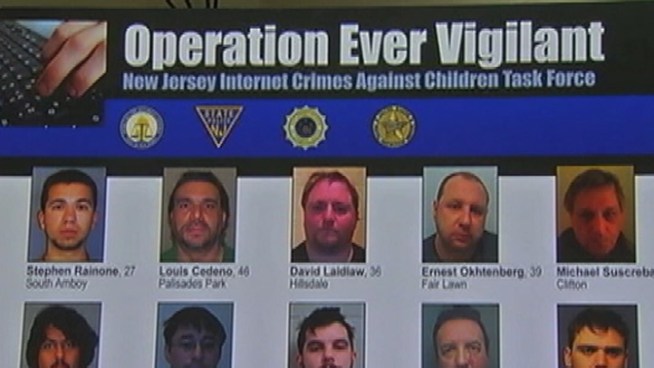 NBC10.com – Monique Braxton
After a three-month investigation, officials arrested more than two dozen men in a statewide child pornography sweep called "Operation Ever Vigilant." The suspects had sexually explicit videos of children on their computers and distributed them to others, according to New Jersey Attorney General Jeffrey Chiesa. NBC10's Monique Braxton reports.
Twenty-five people were arrested last week on child pornography charges in New Jersey.
The child porn sweep, dubbed Operation Ever Vigilant, began three months ago with a focus on uncovering the distribution of videos and other illegal materials.
New Jersey State Police announced this morning that 25 arrests were made with the suspects ranging in age from 17 to 66 years old in 11 counties. 
The victims range in age from toddlers to 10-year-olds, according to the officials.
In a news conference this morning, Attorney General Jeffrey S. Chiesa referred to the children as victims of torture, saying that the videos and pictures uncovered show necrophilia, defined as sexual attraction for or intercourse with dead bodies, and beastiality — mostly adults assaulting children. 
Of the 25 arrested, five of the men had direct contact with children. Some were even babysitters, said Chiesa.
Four of the suspects are living in the country illegally, according to the A.G.
All of the men are facing mulitple charges.

Here are the names of the 25 suspects:
Stephen Rainone, 27, Louis Cedeno, 46, David Laidlow, 36, Ernest Okhtenberg, 39, Michael Suscreba, 66, Nill Choudhury, 23, James Engle, 28, Albert Fermiano, 30, Frank Fiorelli, 61, Joseph Lorz, 26, Jose Oswaldo, 39, Alfred Bakewell, 64, Moses Garcia, 25, Alexander Ramirez, 36, Jose Holgiun, 59, Brent Aliff, 38, Stephen Anan, 52, Ryan Bronchella, 34, Christopher Brondi, 57, Manuel Sanchez-Olivaroz, 37, Duane Bell, 43, Giovanni Jimenez, 37, William Payton II, 20, Frank Syak and a 17-year-old male.
More Coverage On this Story:
http://www.nbcphiladelphia.com/news/local/25-People-Arrest-in-NJ-Child-Porn-Sting-193595161.html

http://abclocal.go.com/wpvi/story?section=news/local&id=9009126
http://philadelphia.cbslocal.com/2013/02/27/police-to-announce-numerous-child-porn-arrests-in-new-jersey/
http://www.upi.com/Top_News/US/2013/02/28/NJ-arrests-25-on-kid-porn-charges/UPI-71061362034134/?spt=hs&or=tn
http://www.nbcnewyork.com/news/local/Child-Porn-Arrest-Ring-New-Jersey-193546861.html
http://abclocal.go.com/wabc/story?section=news&id=9009225
http://gloucestertownship.patch.com/articles/sicklerville-clementon-men-arrested-in-child-porn-sting
http://newyork.cbslocal.com/2013/02/27/more-than-two-dozen-arrested-in-statewide-child-porn-bust-in-new-jersey/
http://hackettstown.patch.com/articles/budd-lake-man-among-25-arrested-in-child-porn-sting
http://www.northjersey.com/news/crime_courts/Police_arrest_suspects_in_child_pornography_ring_in_Bergen_and_Passaic_counties.html
http://www.newsworks.org/index.php/local/item/51608-25-suspects-rounded-up-in-nj-child-porn-crackdown-?linktype=hp_topstorylist
http://nj1015.com/child-porn-operation-nets-25-arrests/
http://articles.philly.com/2013-02-27/news/37333098_1_camden-county-mercer-county-monmouth-county
http://www.nbcnews.com/id/50975022/ns/local_news-philadelphia_pa/#.US-AjzCG0Vs

http://www.myfoxmemphis.com/story/21413953/25-arrested-across-nj-in-child-porn-investigation
http://www.njherald.com/story/21422606/budd-lake-man-24-others-arrested-in-statewide-child-porn-investigation
http://gothamist.com/2013/02/27/25_arrested_in_nj_child_porn_crackd.php
http://rumson.patch.com/articles/rumson-man-among-25-charged-in-child-porn-sting
http://collingswood.patch.com/articles/four-from-camden-co-arrested-in-statewide-child-porn-sting
http://www.njsp.org/news/pr022713.html
http://www.nj.com/camden/index.ssf/2013/02/child_porn_dragnet_operation_e.html
http://ns1.newjerseynewsroom.com/state/child-porn-sting-25-arrested-in-nj-for-possessiondistribution-of-child-pornography
http://springfield.patch.com/articles/clark-man-arrested-for-possessing-distributing-child-porn
http://www.state.nj.us/lps/newsreleases13/pr20130227a.html
http://www.app.com/article/CN/20130227/NJNEWS14/302270032/Child-porn-sting-results-arrest-25-men
http://njtoday.net/2013/02/27/state-announces-25-child-porn-arrests/
http://www.philly.com/philly/news/local/20130228_25_are_arrested_in_child-porn_sweep.html
http://www.trentonian.com/article/20130227/NEWS01/130229681/authorities-bust-huge-network-of-child-pornography
http://www.mycentraljersey.com/article/CN/20130227/NJNEWS14/302270032/Child-porn-sting-results-arrest-25-men
http://longbranch.patch.com/articles/west-long-branch-police-aid-in-statewide-child-pornography-roundup
http://www.myfoxaustin.com/story/21413953/25-arrested-across-nj-in-child-porn-investigation
http://news.yahoo.com/video/25-arrested-jersey-child-porn-173404198.html
http://www.newsday.com/news/region-state/25-arrested-across-nj-in-child-porn-investigation-1.4719033
http://newjersey.news12.com/news/25-arrested-across-nj-in-child-porn-investigation-1.4721125?qr=1
http://abcnewsradioonline.com/national-news/child-porn-ring-busted-in-new-jersey.html
http://abclocal.go.com/wpvi/gallery?section=news/local&id=9009122&photo=9
http://bloximages.newyork1.vip.townnews.com/phillyburbs.com/content/tncms/assets/v3/editorial/f/f7/ff7314ac-cb96-5b90-a5d0-6d387159ec23/512e609d2fe34.pdf.pdf
http://philadelphia.cbslocal.com/2013/02/27/25-arrested-in-nj-child-porn-possession-sweep/