2 injured when 2 school buses collide
Submitted by New Jersey Bus Accident Lawyer, Jeffrey Hark.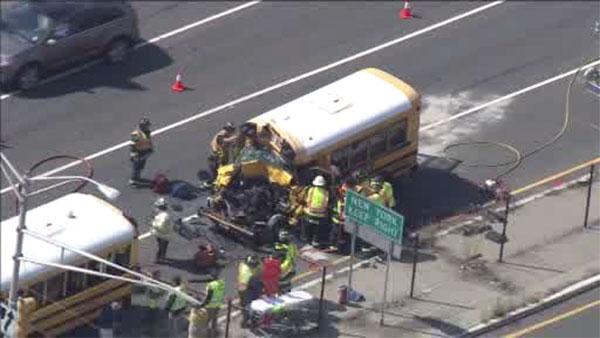 BORDENTOWN TOWNSHIP – A school bus driver and a bus aide were injured when a school bus collided with another on Route 130 Wednesday afternoon, Bordentown Township police said.
No students were on either bus during the 3:15 p.m. crash, police said.
Police said a smaller bus being driven by Ludmilla Larsen, 68, of Medford was driving in the left, southbound lane of the highway when her bus collided with the rear of a full-size bus stopped at the Crosswicks Street intersection.
Larsen was trapped in the wreckage of her bus and had to be cut free by firefighters. She suffered serious injuries and was taken to Capital Health Regional Medical Center in Trenton by ambulance, police said.
A school bus aide on Larsen's bus, Cristiana Fernandez, 24, of Pemberton Township, suffered minor injuries and was taken to Robert Wood Johnson Hospital at Hamilton, police said.
The bus Larsen struck was driven by Frederick Hannah, 42, of Florence., police said. He was not injured and had no passengers on his bus.
Both buses are owned by Garden State Transport in Southampton and the drivers and aide are employees of this company, police said.
Firefighters and rescue units from Bordentown City, Bordentown Township and Chesterfield Township.
The collision is under investigation by the Bordentown Township Police Traffic Safety Unit and anyone who witnessed the crash is asked to contact the unit at 609-298-4300, ext. 2134.
Originally published here by nj.com.